Boys Birthday Cupcakes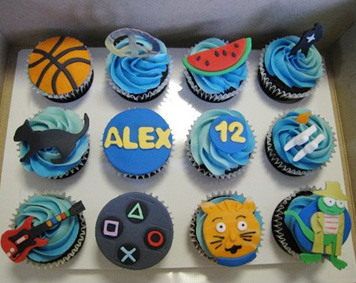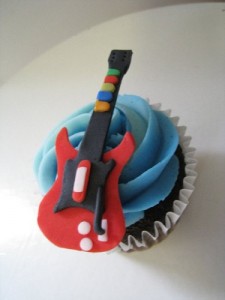 Who said cupcakes aren't for boys too!? Check out these cupcake ideas just for boys:


Sleepover Birthday Cupcakes created by A Baked Creation
A very cool mom asked us to make cupcakes for her son, Alex, sleepover party to celebrate his belated birthday. So, we made chocolate cupcakes with two-toned blue vanilla buttercream. As for the decorations? A few of his favorite things!


Custom cupcakes for a birthday boy who loves tennis created by Kristin at Meringue Bake Shop
Red velvet cupcakes with vanilla buttercream and handmade fondant decorations. Oy the strings… i just rolled out thin snakes of fondant and laid them like i was latticing a pie. but, unfortunately, i could never get the strings thin enough so i just gave up and what you see is what came of it. i think next time i try making the strings out of royal icing. or even white candy melts.


Toopy and Binoo Cupcakes created by Clever Cupcakes
Order for a little boy's 3rd birthday these chocolate cupcakes are topped with chocolate and vanilla buttercream as well as handmade fondant Toopy and Binoo toppers. Aside from the show's main characters toppers include stars, bubbles, and clouds which are all prominent on the show.


For the best view of the pictures click on the [View with PicLens] link below.




[nggallery id=9]


If you enjoyed this article, the pictures and/or this site, please use the (blue and white) "Bookmark and Share button" below to easily share this post via email or add it to 1 or more of your favorite social bookmarking sites like Facebook, Del.icio.us, Digg, Stumble, etc.
Share this post
Cupcake Secrets on Video

WATCH Wedding Cupcake Secrets for yourself.

The best learning tool available for any cupcake occasion

Let me show you the same secrets to wedding cupcake decorating - professional pastry chefs pay thousands of dollars to learn.

This in-depth "Wedding Cupcake Secrets Video" reveals step-by-step secrets of how to create cupcake masterpieces for any occasion!