It all started with my partner in crime (not really crimes more like the adventures of C2 and T2), Cecily a.k.a. C2 love of cupcakes as a kid.  C2 had almost forgotten about those little treats until the domestic diva Martha Stewart featured a beautiful 5 tier cupcake stand filled with the most scrumptious looking Tiffany blue wedding cupcakes on the cover of her Winter 2003 magazine.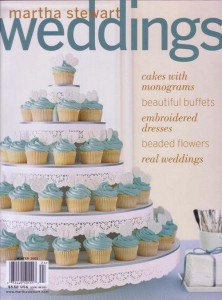 The cupcake ideas of today far exceed those from your childhood with simple flavors like chocolate, vanilla or lemon. Flavors for the new millennium cupcakes can range from those that sound like a happy hour cocktail; Mojito, Margarita and Merlot to those that sound like a pseudo breakfast treat; applewood smoked bacon and chocolate covered bacon.

Who knew some 5 years later (and with special thanks to the Sex and the City TV show) cupcakes would be the IT dessert right now? Just look around at your local grocery store, neighborhood bakery or at the latest EXCLUSIVE cupcake cafe or cupcake bakery popping up across the United States and around the world.

Inspired by C2′s love of cupcakes I scoured the internet for all things cupcake. Overwhelmed with the number of beautiful pictures, unique flavors, unbelievable designs, cupcake cakeries (cupcake only bakeries), this website was born. The adventures of C2 and T2 will continue as we strive to taste as many cupcakes as possible while visiting cupcake bakeries. We will not stop until this website is the #1 resource that provides cupcake ideas for you.

Check back often as we bring you the BEST cupcake ideas from around the world!
Share this Page
Cupcake Secrets on Video

WATCH Wedding Cupcake Secrets for yourself.

The best learning tool available for any cupcake occasion

Let me show you the same secrets to wedding cupcake decorating - professional pastry chefs pay thousands of dollars to learn.

This in-depth "Wedding Cupcake Secrets Video" reveals step-by-step secrets of how to create cupcake masterpieces for any occasion!