Garden Themed Wedding Shower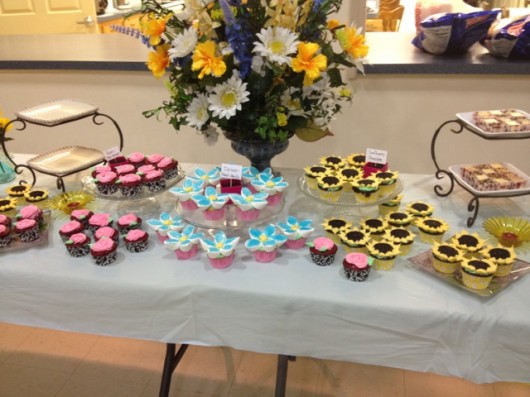 Submitted by: Sarah Dennis
Sarah Lynn's Sweets
Here are my cupcakes I made for a garden themed wedding shower. My sister was throwing the shower and chose a garden theme. I had a lot of fun coming up with ideas.
Given the colors were blue, pink, and yellow in the decorations, I wanted to represent each of those in a cupcake. I decided to go with a red velvet cupcake decorated with a pink rose, chocolate cupcake with a yellow sunflower, and a french vanilla cupcake with a blue daisy. It took a lot of time (and patience) to make them, but I think they turned out well and everyone seemed to like them.
For all three cupcakes I used icing dye that I found at Michaels. They were small containers, but it really just takes a tiny amount of the dye to change the color. I found that it didn't affect the consistency or taste of the icing as much as adding food coloring.
I finished the display up using crushed Oreos to look like dirt. I placed them in small boxes and put a sign in each to distinguish the type of cupcake.
Share this post
Cupcake Secrets on Video

WATCH Wedding Cupcake Secrets for yourself.

The best learning tool available for any cupcake occasion

Let me show you the same secrets to wedding cupcake decorating - professional pastry chefs pay thousands of dollars to learn.

This in-depth "Wedding Cupcake Secrets Video" reveals step-by-step secrets of how to create cupcake masterpieces for any occasion!