Wedding Cupcake Ideas – Amazing Cupcake Accessories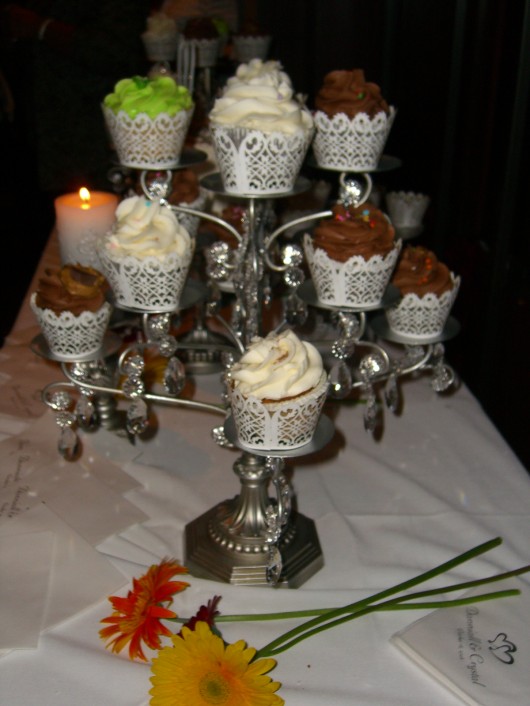 C-Squared's Cupcake Crawl
(On the hunt for the world's best cupcakes ideas, cupcake bakeries, cupcake café's and cupcake paraphernalia).
Crystal, one of T2′s friends and business colleagues, was in the midst of planning her fall wedding to Danniall when she found herself at an impass about her cake. Tonya suggested to her that she have a cupcake tier for her wedding. Within seconds, Crystal's dismay turned into school-girl giddiness at the suggestion.
Soon after, Crystal and Danniall set off on their own quest to find the perfect cupcakes for their nuptials.  The husband-and-wife-to-be team scoured some of Maryland and DC's newest popular cupcake bakeries.  They found their mecca at Baltimore Cupcake Company.
[singlepic=7,320,240,,right]Crystal didn't just settle for the wonderful taste of the cupcakes; she took the wedding display to new heights.  She scanned the internet for unique cupcake accessories and found the beautiful Filigree cupcake wrappers.  During a foray into a local Home Goods store, Crystal found a beautiful chandelier-style pedestal for the cupcake display.
Crystal and Danniall's wedding reception was at a Washington, DC restaurant called Fogo de Chao, which should be more appropriately named "Fools go to chow."  (The food at this Brazilian Gaucho chain is outstanding).  As T2′s cupcake partner-in-crime, Crystal invited me to be a wedding crasher for the reception.
The cupcake stand display was gorgeous. Crystal artfully put the accessories together for a uniquely-themed array.  But a beautiful display at a wedding is nothing until the taste test is complete.
As guests delved into the many flavored cupcakes, you could hear a slow rumble of orgasmic groans emanate from the table.  For a few moments, there was complete silence as we guests savored the cupcakes and tried to prolong the moment.  Those were some good cupcakes!
We rolled ourselves out of "Fools go to chow," into the limo carrying the group back to Crystal and Danniall's home.  As an added surprise at their home, Crystal and Danniell had more cupcakes waiting for guests.  Now that's what I call "wedding bliss."
Congratulations Crystal and Danniall.  May you be blessed with many happy years together. And if you want to get married again next year, I'm more than available to crash the party.
Prowling and crashing,
C2
[nggallery id=1]
Share this post
Cupcake Secrets on Video

WATCH Wedding Cupcake Secrets for yourself.

The best learning tool available for any cupcake occasion

Let me show you the same secrets to wedding cupcake decorating - professional pastry chefs pay thousands of dollars to learn.

This in-depth "Wedding Cupcake Secrets Video" reveals step-by-step secrets of how to create cupcake masterpieces for any occasion!