Wedding Cupcakes – Have Your Cake and Wedding Cupcakes Too!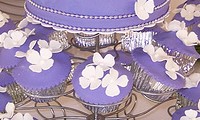 This year as brides plan their wedding, missing will be traditional wedding cakes. Believe it or not the hottest trend is serving wedding cupcakes instead. As a result brides are faced with how to fulfill the tradition of displaying and cutting the cake. This task is not so easy to do with wedding cupcakes.
Let the following cupcake bakeries: Manassas Cakery, Anis Bakery, Yummy Yumkins Cupcakes and American Candy Stand Cupcakes show you how using a cupcake tier (also known as a cupcake stand) you can have your wedding cake and wedding cupcakes too!
For the best view of the pictures click on the [View with PicLens] link below.
If you enjoyed this article, the pictures and/or this site Use the (blue and white) "Bookmark and Share button" below to easily share this post via email or add it to 1 or more of your favorite social bookmarking sites like Facebook, Del.icio.us, Digg, Stumble, etc.
[nggallery id=3]
Share this post
Cupcake Secrets on Video

WATCH Wedding Cupcake Secrets for yourself.

The best learning tool available for any cupcake occasion

Let me show you the same secrets to wedding cupcake decorating - professional pastry chefs pay thousands of dollars to learn.

This in-depth "Wedding Cupcake Secrets Video" reveals step-by-step secrets of how to create cupcake masterpieces for any occasion!