Cupcake decorating ideas with a twist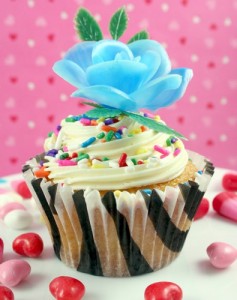 Cupcake decorating ideas can go from complex to simple. Its amazing how the cupcake wrapper can make the difference. Here's what Indy Grrrl had to say about her cupcake ideas:


I have always loved baking and cooking. My mom taught me all the things I know how to make, but I add my own little twist to make it my style. Being creative with all types of mediums has always been the ultimate way to express myself. I am inspired by all things cute and whimsical. I feel like Willy Wonka when I am planning and decorating my edible art. I enjoy the soothing process of blending ingredients and frosting those mounds of golden sweetness.


I often transform my cupcakes into wearable jewelry; people tell me I make them hungry when they look at my creations, and I am completely cool with that. I am also inspired to bake when my favorite holidays like Halloween and Valentine's day roll around each year. It gives the baby cakes a clear theme, and the holidays are a great excuse to break out the kitchen aid mixer and frosting tips. Mostly, I am inspired by the joy and fun surrounding cupcakes. They stir nostalgic thoughts of elementary school parties and fruit punch toasts.


For the best view of the pictures click on the [View with PicLens] link below.


[nggallery id=6]
If you enjoyed this article, the pictures and/or this site, please use the (blue and white) "Bookmark and Share button" below to easily share this post via email or add it to 1 or more of your favorite social bookmarking sites like Facebook, Del.icio.us, Digg, Stumble, etc.
Share this post
Cupcake Secrets on Video

WATCH Wedding Cupcake Secrets for yourself.

The best learning tool available for any cupcake occasion

Let me show you the same secrets to wedding cupcake decorating - professional pastry chefs pay thousands of dollars to learn.

This in-depth "Wedding Cupcake Secrets Video" reveals step-by-step secrets of how to create cupcake masterpieces for any occasion!