A cupcake on a cupcake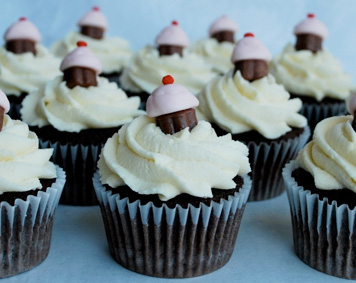 Guest Blogger: Sweet Things Toronto, Canada
I made these cupcakes this past weekend for some old high school friends. They loved them – they were chocolate cupcakes with cream cheese icing. Yum!
What is cuter than a cupcake on a cupcake?
I have to put together a tutorial so that you too can make these SweetThings at home for your family and friends. They will love them! Especially if you use chocolate fondant as it tastes exactly like a tootsie roll.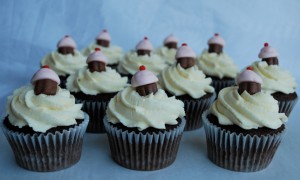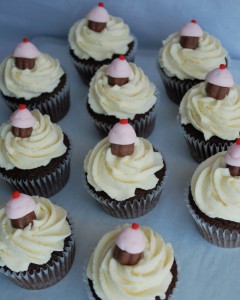 If you enjoyed this article, the pictures and/or this site, please RT (retweet) or use the (blue and white) "Bookmark and Share button" below to easily share this post via email or add it to 1 or more of your favorite social bookmarking sites like Facebook, Del.icio.us, Digg, Stumble, etc.
Share this post
Cupcake Secrets on Video

WATCH Wedding Cupcake Secrets for yourself.

The best learning tool available for any cupcake occasion

Let me show you the same secrets to wedding cupcake decorating - professional pastry chefs pay thousands of dollars to learn.

This in-depth "Wedding Cupcake Secrets Video" reveals step-by-step secrets of how to create cupcake masterpieces for any occasion!