What's better than flowers?…. CUPCAKE flowers!!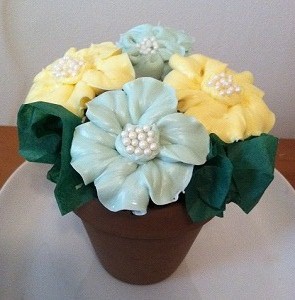 Submitted by: Arlene Altschuler
Through trial and error, I found that a straight buttercream recipe worked best in creating and keeping the pansy shape. Although the 121 tip was called for, using the 102 tip gave me more control over the shape. With a little bit of patience and some creativity, these cupcake flower pots were a huge hit for my cupcakery, especially for Mother's Day and birthdays.
Share this post
Cupcake Secrets on Video

WATCH Wedding Cupcake Secrets for yourself.

The best learning tool available for any cupcake occasion

Let me show you the same secrets to wedding cupcake decorating - professional pastry chefs pay thousands of dollars to learn.

This in-depth "Wedding Cupcake Secrets Video" reveals step-by-step secrets of how to create cupcake masterpieces for any occasion!