S'more Cupcakes Ideas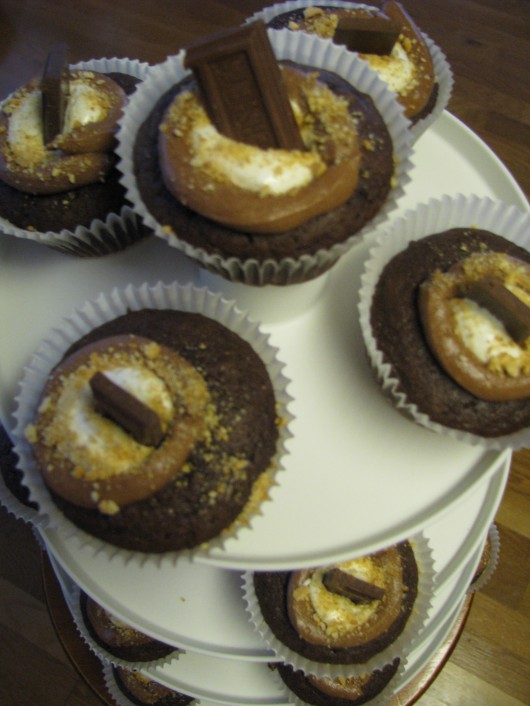 Submitted by: Erica Williams
Erica
Well, National S'mores Day is on August 10th! How will you celebrate?
How should we celebrate such a day when it's too hot to sit around a campfire to toast your marshmallows? You make 'em into cupcakes, that's what!
I have wanted to make these for quite some time now. But my Rocky Road Cupcakes kept distracting me. But I had to be focused enough to make these cuties…so I did!
I made a rich devil's food chocolate batch of cupcakes with a crushed graham crust on the bottom of each cake. I left space in the middle to put my filling in…my marshmallow buttercream that I finally made on my tweaked Rocky Road cupcakes. I wanted to top these off with a couple of mini marshmallows…but then discovered that someone ate my mini marshmallows. Bummer. I had planned on toasting the marshmallows on top, but attempted to toast the marshmallow buttercream. It slightly melted into a film on top, but not the results I'd hoped for. I then made a delightful chocolate buttercream to surround the filling. I sprinkled a little more crushed graham on top & placed a Hershey bar piece in the center for the perfect garnish.
They are so adorable & so yummy! I want to make these again when I have some mini marshmallows to toast on top.
Share this post
Cupcake Secrets on Video

WATCH Wedding Cupcake Secrets for yourself.

The best learning tool available for any cupcake occasion

Let me show you the same secrets to wedding cupcake decorating - professional pastry chefs pay thousands of dollars to learn.

This in-depth "Wedding Cupcake Secrets Video" reveals step-by-step secrets of how to create cupcake masterpieces for any occasion!