Quick, Easy and Fun Sugarcraft Ideas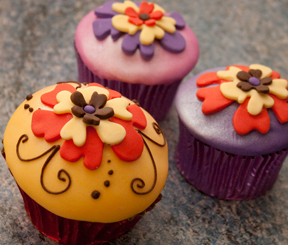 Submitted by: Ann Pickard
Ann Pickard Sugarcraft
My main inspiration is 'quick, easy and fun'. I have lots of fun ideas for cupcakes to celebrate holiday events Halloween, Christmas and ideas for children's birthdays – jungle, animals. Anything that is fun and easy to make. I want to encourage people to have a go at sugarcraft modelling and enjoy it as much as I do. I use sugarpaste and 1 basic PME 9 modelling tool – but a clean paintbrush is also fine. So it's no mess, no fuss and no moulds. So simple even children can have a go. I absolutely love looking at different ideas, techniques which is how I found this your wonderful website.
Share this post
Cupcake Secrets on Video

WATCH Wedding Cupcake Secrets for yourself.

The best learning tool available for any cupcake occasion

Let me show you the same secrets to wedding cupcake decorating - professional pastry chefs pay thousands of dollars to learn.

This in-depth "Wedding Cupcake Secrets Video" reveals step-by-step secrets of how to create cupcake masterpieces for any occasion!