Popcorn Cupcakes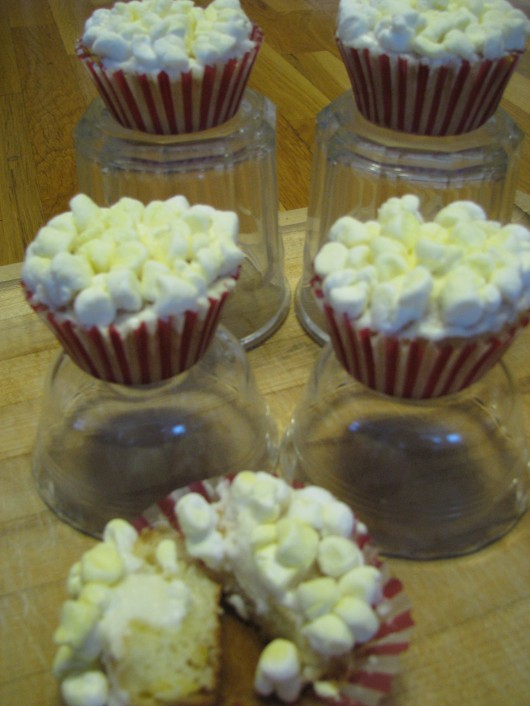 Submitted by: Erica Williams
A Mean Cupcake
When I made my cornbread cupcakes, it was to tide me over until I could try to make popcorn cupcakes! I wanted to do them ever since I found the red & white striped cupcake liners that made me think of a popcorn box. I have also seen some super cute popcorn decor for them online (which I used), but, if you haven't yet figured out, I have to go beyond that & make the cupcakes TASTE like popcorn, too! But how?
I used white cake mix & popped some salted popcorn. I then added margarine to it to help break it down a bit & give it a great buttery flavor. Then it went directly to the batter, handpicked to make sure no unpopped kernels made it into the cupcakes.
When those baked up, I made sure to use my filling "corks" to make way to fill the centers with a coconut buttercream. After I filled the popcorn cupcakes with the coconut buttercream, I spread a layer of it on top of each cake. This would be the "glue" for mini marshmallow topper. As I learned from other sites, you take the marshmallows & rip them in half; take 2-3 (3 works best) of the torn pieces, squish them together & it forms a "kernel". After each "kernel" was formed, I placed them all over the top of each cupcake, making sure to secure them to the icing. When the top of the cupcake was covered (about 15 "kernels" per cake), I had to take it a step further…I sprayed the tops with butter-flavored cooking spray.
It took 2 hours to arrange the tops of 24 cupcakes, but it did look like movie popcorn!
Not only to they look like a tub of movie popcorn, but it has a really great taste that isn't too sweet & isn't too over-the-top. I used the coconut in the buttercream to be reminiscent of the movie days of using coconut oil to pop the corn. YUM!
However, since there is actual popcorn in it…keep some floss around…you still get the fun pieces stuck in your teeth.
Share this post
Cupcake Secrets on Video

WATCH Wedding Cupcake Secrets for yourself.

The best learning tool available for any cupcake occasion

Let me show you the same secrets to wedding cupcake decorating - professional pastry chefs pay thousands of dollars to learn.

This in-depth "Wedding Cupcake Secrets Video" reveals step-by-step secrets of how to create cupcake masterpieces for any occasion!