Mini Slider Cupcakes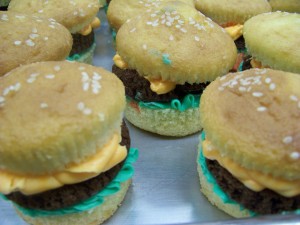 Submitted by: Shannon Linthicum
I love these cupcakes and I have made them for a school bake sale, graduation party, and just for fun. People love these! They are fairly easy to make and do require a system to get them done. Make your yellow cupcakes with sesame seeds on top and bake. Make a batch of chocolate cupcakes. Use a spring scoop (I use 18/8 scoop by Pampered Chef, the smallest they make) and fill the muffin cups 1/4 to 1/3 of the way up. Remember you are making a small hamburger patty here. Make your buttercream icing. Divide into 3 parts, one being the smaller of the three. Color then in lettuce colored green, cheese colored orange, and ketchup colored red (this is the smaller). I use tips to pipe my icing but you can just use a plastic decorating bag and cut a small opening. Now here is where you need a system. Unwrap all cupcake from the paper, if you used it. Separate the yellow and chocolate cupcakes.
Take the yellow cupcakes and cut in half, make two rows tops and bottoms. Take your bag of green icing and pipe on the lettuce. I just go around the edge on the bottom bun to make the lettuce. I do all the lettuce on all the cupcakes at one time. Now go and add the chocolate cupcakes on top of the lettuce. Again, do this for all of them all at once. Now take your orange cheese icing and pipe on the cheese. Now you can pipe on your ketchup. I would just do a swirl. Now you add the tops of the burgers.
Share this post
Cupcake Secrets on Video

WATCH Wedding Cupcake Secrets for yourself.

The best learning tool available for any cupcake occasion

Let me show you the same secrets to wedding cupcake decorating - professional pastry chefs pay thousands of dollars to learn.

This in-depth "Wedding Cupcake Secrets Video" reveals step-by-step secrets of how to create cupcake masterpieces for any occasion!