How I started my cupcakes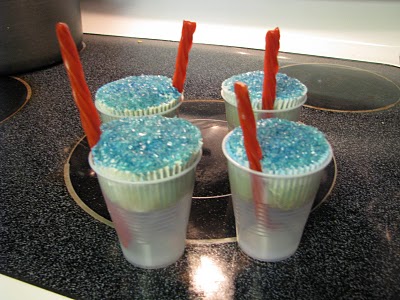 Submitted by: Erica Williams
A Mean Cupcake
My new cupcake passion was totally inspired by the show GLEE.
I was trying to find a great background for my GLEE Twitter account last summer (because I am a total & I thought the iconic slushee would be perfect! I looked all over the web for a great GLEE slushee/slushee-facial pic to use. I came across a pic of cupcakes someone made to look like the "Big Quench" slushees from GLEE! They were so adorable! And it was a cupcake…another GLEE reference. So that's the pic I used. But everytime I looked at it, I wanted a cupcake AND a slushee.
Well, when Season 2 was quickly approaching, I wanted to have a GLEE kick-off party…with all of the perfect GLEE food references & inspirations! So I wanted to make the slushee cakes…but not just LOOK like like the slushees, but TASTE like them too!
It took a couple of test runs, and I now make slushee cakes in several flavors! They are totally adorable & totally taste like a slushee in cake form!!
Share this post
Cupcake Secrets on Video

WATCH Wedding Cupcake Secrets for yourself.

The best learning tool available for any cupcake occasion

Let me show you the same secrets to wedding cupcake decorating - professional pastry chefs pay thousands of dollars to learn.

This in-depth "Wedding Cupcake Secrets Video" reveals step-by-step secrets of how to create cupcake masterpieces for any occasion!