Day of China – Hong Kong cupcakes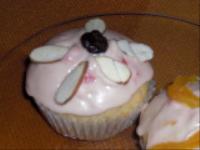 Submitted by: Pamela Jacobs
A cupcake made with rice flour, panko, whipped egg whites, grated ginger, palm sugar, rhubarb puree.
Bake, cool, scoop out about 2 tsps of cake from top. Add lychee in cavity. Chill.
Mix rhubarb puree with confectioners sugar, small amount of canola oil. Ice cupcakes with mixture.
I've always wanted to go to Hong Kong. It is a beautiful city and great history. I chose Asian flavors that might be available in Hong Kong.
Share this post
Cupcake Secrets on Video

WATCH Wedding Cupcake Secrets for yourself.

The best learning tool available for any cupcake occasion

Let me show you the same secrets to wedding cupcake decorating - professional pastry chefs pay thousands of dollars to learn.

This in-depth "Wedding Cupcake Secrets Video" reveals step-by-step secrets of how to create cupcake masterpieces for any occasion!