Cupcakes for healthy "cupcakes"

C-Squared's Cupcake Crawl


(On the hunt for the world's best cupcake ideas, cupcake bakeries, cupcake café's and cupcake paraphernalia).


I recently had an annual mammogram, which is not something I look forward to, but know it's one of those necessary evils for women over 40. So while I was standing in a cold radiologists office in a very thin, vented hospital gown, with my boob in a "vice," my mind traveled to one of my happy places – thoughts of cupcakes. Then it hit me… I wonder if anyone makes breast cancer awareness cupcakes. Hence, I was on a quest.


But I didn't have to travel far. Low and behold, the very next day, I walked into my local grocery store and was greeted by a beautiful pink cupcake display to honor breast cancer awareness month. Weis Supermarket in Laurel, Maryland, had a great display with balloons, streamers and most importantly, strawberry-flavored cupcakes.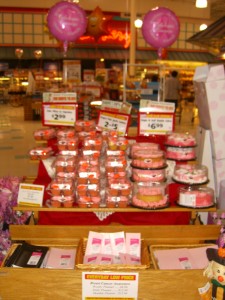 What a wonderful way to commemorate this important cause. As delicious as the cupcakes are, however, they serve as a sober reminder of how breast cancer needs to be routed out; it's taken far too many wonderful women from us.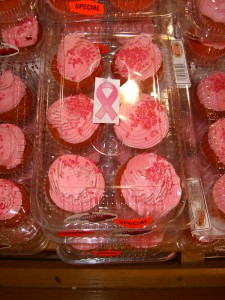 So this is my plea to you ladies – take care of your "cupcakes." Do your monthly self exams. Get your annual mammograms and breast checks with your doctor. I know all too well from recent personal experience how important these check-ups are. I want you and your "cupcakes" to be healthy so we can continue our quest for the best cupcakes, cupcake ideas and cupcake paraphernalia.



Still on the prowl, with my "cupcakes" in tow,

C2


If you enjoyed this article, the pictures and/or this site, please use the (blue and white) "Bookmark and Share button" below to easily share this post via email or add it to 1 or more of your favorite social bookmarking sites like Facebook, Del.icio.us, Digg, Stumble, etc.
Share this post
Cupcake Secrets on Video

WATCH Wedding Cupcake Secrets for yourself.

The best learning tool available for any cupcake occasion

Let me show you the same secrets to wedding cupcake decorating - professional pastry chefs pay thousands of dollars to learn.

This in-depth "Wedding Cupcake Secrets Video" reveals step-by-step secrets of how to create cupcake masterpieces for any occasion!