Cupcake Dream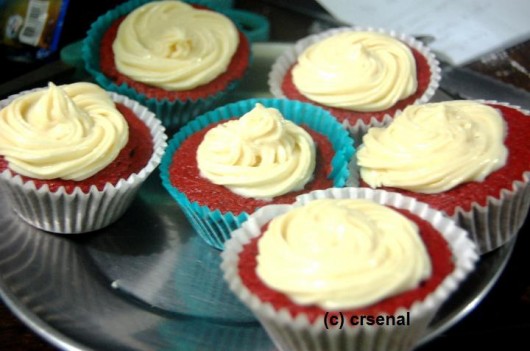 Submitted by: Cez Rabino
All my ingredients are fresh, pure and selected. Making my cupcakes moist and yummy. Plus what makes it special is that it is home made.  I hope you got my point across 'coz I'm a bit sleepy and tired, so my explanations could be vague right now. Hahah (: But ok, I'm offering 3 cupcake flavors yet. That'll only be for now; NUTELLA CHOCOLATE, VANILLA AND RED VELVET. Then soon CHOCO MINT. I've chosen these 3 flavors 'coz majority of cupcake lovers craves with these kind of flavors and I've perfected these three. .  Thank you! (:
Making cupcakes, I've learned these things:
- Patience
- BEWARE: Pain on the carpal tunnel
- Joy and contentment
- Creaming is the best way to make one, based on my opinion
- Moist cupcakes = better butter, add some more
- Vanilla extracts are just for the aroma, if you don't have it you can sub it with maple syrup. I've tried it and I've seen and smell no difference.
- You should strictly separate dry from wet.
- Never put everything at once, patience in mixing and beating is the key.
- Cheap/Poor quality of cocoa powder equals disaster. It'll be dry as eating up a cocoa powder not mixed with water. Stiff to eat, hard on the mouth.
Share this post
Cupcake Secrets on Video

WATCH Wedding Cupcake Secrets for yourself.

The best learning tool available for any cupcake occasion

Let me show you the same secrets to wedding cupcake decorating - professional pastry chefs pay thousands of dollars to learn.

This in-depth "Wedding Cupcake Secrets Video" reveals step-by-step secrets of how to create cupcake masterpieces for any occasion!