Cornbread Cupcakes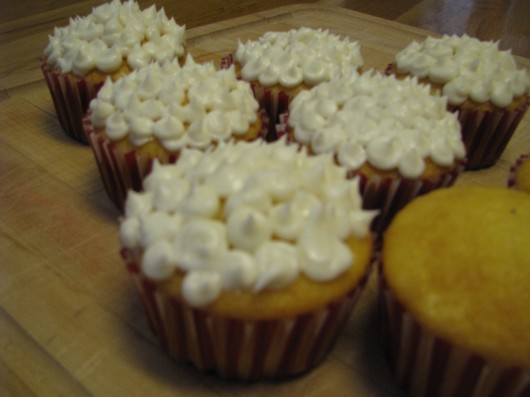 Submitted by: Erica Williams
A Mean Cupcake
It is really interesting how & where inspiration comes from, isn't it?
I was at Hobby Lobby not too long ago when I came across these really great red & white striped baking liners. OK…they were in a section set up for Independence Day decorations, but I totally thought of…POPCORN! But how in the heck am I supposed to work a popcorn cupcake??
Until I figure that out, the "corn" part really stuck out! Mmmmm…CORNBREAD!
OK…for my southern friends who may be having a heart attack right now, I know how you are about your cornbread! And I know I have heard it stated that if cornbread had sugar in it, it would be called "cake". So, that's what I've done!
Who remembers going to Tippin's? They were (and still are) known for their pies…but…I loved going for their cornbread! With my sweet-tooth, I love the ginormous pieces of it that came out! So tall & so sweet…and it turns out the secret was that they added yellow cake mix to their cornbread batter!
Well?? That's exactly what I did! I added cornbread to my yellow cake! I then topped it with a honey buttercream icing to give a popcorn-type look!
Different & fun…and you can have it WITH the meal or AFTER the meal! (Or both.)
Share this post
Cupcake Secrets on Video

WATCH Wedding Cupcake Secrets for yourself.

The best learning tool available for any cupcake occasion

Let me show you the same secrets to wedding cupcake decorating - professional pastry chefs pay thousands of dollars to learn.

This in-depth "Wedding Cupcake Secrets Video" reveals step-by-step secrets of how to create cupcake masterpieces for any occasion!