Blackberry Cobbler Cupcake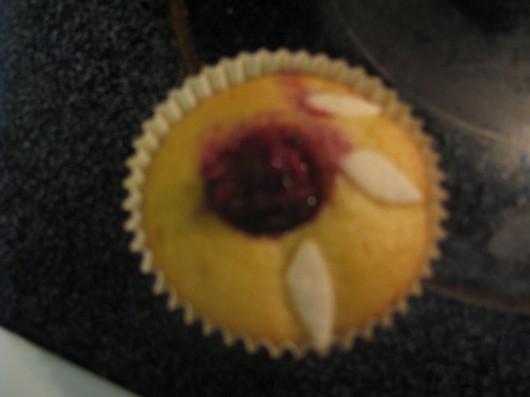 Submitted by: Erica Williams
Erica
Lately my kids have been having idea inspirations for cupcakes & my husband has been feeling left out. But he couldn't figure out what flavor he wanted.
On Father's Day weekend & I wanted to find a flavor of cupcake just for him…but maybe one he wasn't expecting.
I dug into his childhood memories & remembered one of his favorite desserts: Blackberry Cobbler!
I rolled out, cut out & baked mini pie crusts in each baking liner, then added yellow cake batter on top of the baked crusts. I made room for filling to put the blackberries in. I also had my daughter help me cut out mini "leaves" from the rolled out crust remainder. I placed & arranged 3 leaves on the top of each cupcake before baking to be reminiscent of a pie/cobbler.
While those were baking, I took fresh blackberries & began to make them into a syrup. Once the cupcakes were done & looking adorable, I spooned in about 3 berries into each center.
Now my hubby thinks that vanilla buttercream chilled tastes like vanilla icecream. I made a batch of vanilla buttercream & chilled it. With a melon baller, the chilled icing can be scooped & placed on top of a warm blackberry cobbler cupcake.
They are adorable & so yummy!
Plus this is a perfect summer dessert, too!
Share this post
Cupcake Secrets on Video

WATCH Wedding Cupcake Secrets for yourself.

The best learning tool available for any cupcake occasion

Let me show you the same secrets to wedding cupcake decorating - professional pastry chefs pay thousands of dollars to learn.

This in-depth "Wedding Cupcake Secrets Video" reveals step-by-step secrets of how to create cupcake masterpieces for any occasion!