Soccer Birthday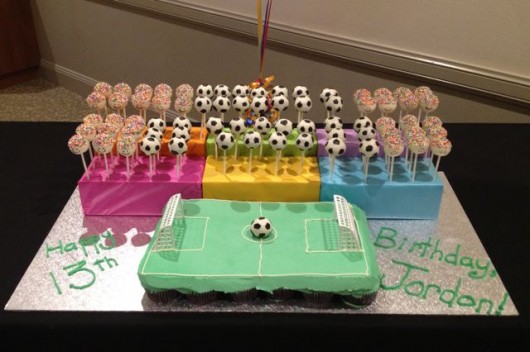 Submitted by: Melissa Gaydon
I made this cupcake and cake pop for a recent 13th Birthday party. When the mum approached me about this soccer themed party, her main concern was not having to cut up a slab cake. Cupcakes to the rescue. I suggested putting the cupcakes together and icing them like a slab cake, also known as a Pullapart Cupcake cake. No cutting, no plates, just pull a part the cake to eat the individual cupcakes.
I also made cake pops as soccer balls and soccer fans, displayed in a rainbow stand behind the main birthday cake. The Soccer Ball cake pops took me hours to make. I etched each one with the soccer ball pattern using a toothpick. Then, I mixed up some Black tinted white chocolate and handpainted each soccer ball. I was very pleased with the work, but it was tedious.
Share this post
Cupcake Secrets on Video

WATCH Wedding Cupcake Secrets for yourself.

The best learning tool available for any cupcake occasion

Let me show you the same secrets to wedding cupcake decorating - professional pastry chefs pay thousands of dollars to learn.

This in-depth "Wedding Cupcake Secrets Video" reveals step-by-step secrets of how to create cupcake masterpieces for any occasion!