Little Toadstool Garden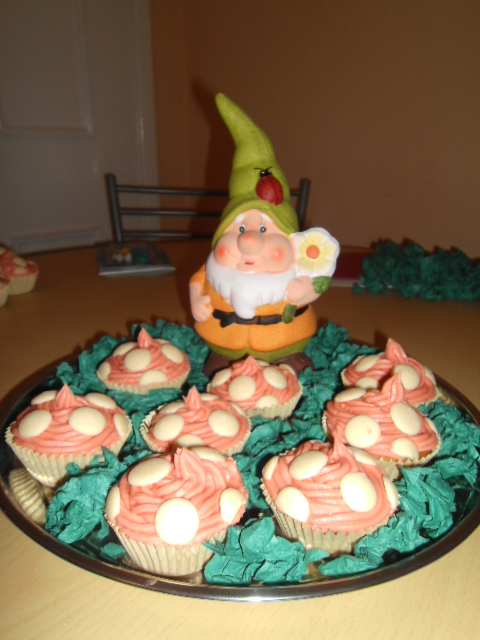 Submitted by: Kerstin Hungerford
Butterfingers
My friend was having a Birthday party where we all had to go dressed up as garden gnomes, so I thought I'd make her a little toadstool garden out of vanilla cupcakes.
I'm a novice baker and haven't had much baking experience so I wanted something easy but effective and it really worked!
I used a standard vanilla cupcake recipe to make the cakes and used red butter cream and white chocolate buttons for the top to get the toadstool look.
My butter cream went a bit runny to start with because I wanted it to be a darker red so I went a bit crazy with the food colouring and I had to start it all from scratch again. It was even too runny to pop it in the fridge to allow it to set!
I'd say the best tip is to use a toothpick to swirl small amounts into the mixture as you go along and slowly keep adding more with a fresh toothpick each time.
For the garden I just went to my local pound store and bought some green crepe paper, a little garden gnome and a silver serving plate.
I ripped the paper up and rolled it into little balls to get a grassy texture and then I just used blu-tack to stick the gnome down to the plate so he wouldn't fall off when I brought him in for the blowing out of the candles.
And that was all I did…easy and effective toadstool cupcakes

Share this post
Cupcake Secrets on Video

WATCH Wedding Cupcake Secrets for yourself.

The best learning tool available for any cupcake occasion

Let me show you the same secrets to wedding cupcake decorating - professional pastry chefs pay thousands of dollars to learn.

This in-depth "Wedding Cupcake Secrets Video" reveals step-by-step secrets of how to create cupcake masterpieces for any occasion!