50′s Theme Cupcakes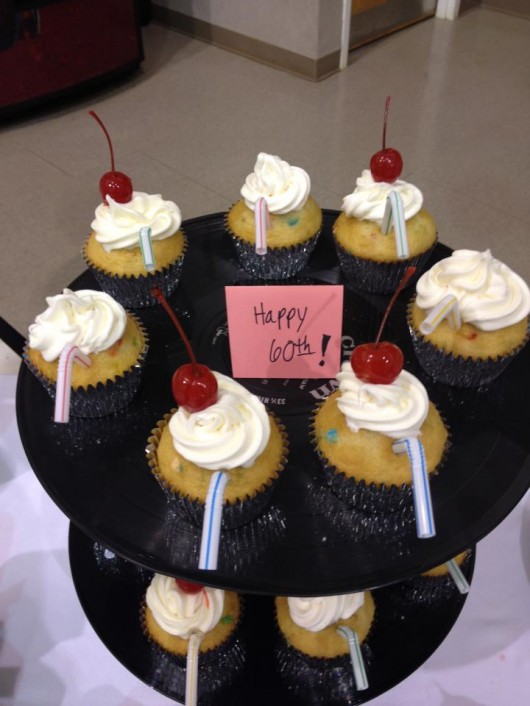 Submitted by: Sarah Dennis
Sarah Lynn's Sweets
My mom just turned 60 and we surprised her with a 50′s theme birthday party. After looking around online for ideas, I decided to go with a soda fountain inspired decoration and a rock 'n roll record decoration. I also saw a cupcake stand made out of records that I thought would be perfect!
First, I started with the cupcake stand. We didn't end up making the exact one online, but used blue margarita glasses we found to create the stand portions. The cupcake stand was easy to assemble with craft glue, it just took a while to create since we let it sit for 10 minutes with a weight on top after adding each new piece.
For the record cupcakes, I used Sugar Sheets to create the record. We cut these out using an Exacto knife and round cookie cutters. I placed these records on top of the cream cheese icing on the red velvet cupcakes. Then I tinted some of the cream cheese icing blue, and used a piping bag and small tip to create the music notes and various music symbols.
For the soda pop cupcakes, I piped the icing on with the widest tip I had, I wanted to create that soda fountain look to the top. I cut straws and placed one next to the icing. Right before the party started, I added maraschino cherries to the top of the cupcake. I made sure and patted the cherries dry to reduce the juice dripping down on the icing.
These cupcakes were a lot of fun to create and my mom really enjoyed them! They would be a perfect addition to any 50′s retro themed party!
Share this post
Cupcake Secrets on Video

WATCH Wedding Cupcake Secrets for yourself.

The best learning tool available for any cupcake occasion

Let me show you the same secrets to wedding cupcake decorating - professional pastry chefs pay thousands of dollars to learn.

This in-depth "Wedding Cupcake Secrets Video" reveals step-by-step secrets of how to create cupcake masterpieces for any occasion!