Cupcakes and pajamas, what a combo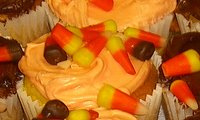 Cupcake ideas: C-Squared's Cupcake Crawl
(On the hunt for the world's best cupcake ideas, cupcake café's and cupcake paraphernalia.)
I don't like to cook much, so I often find myself chowing down at a local joint near my house.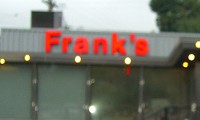 "Frank's Diner" is a converted railway car turned diner and has been serving up homemade vittles near the intersection of Routes 1 and 175 in Jessup, Maryland since 1995.  Owned by husband and wife team Frank and Linda, the diner is just a mile off I-95, and near a major truck stop, so it attracts a plethora of roadies, professional and blue-collar lunch bunches, and local yokels like me.
In typical diner fashion, the bar's countertop is decorated with homemade layer cakes and pies made fresh by co-owner, Miss Linda.  The colorful and flavorful array stares me in the face each time I visit and challenges my efforts to stick to a healthy diet of fish and veggies.
Healthy was out the window recently when I walked in and was immediately greeted by a tray of fresh-baked, JUMBO-sized chocolate and orange-frosted, candy-covered cupcakes!  My taste buds did an immediate about-face from "eat right" to "bring on the fat grams."
After enjoying my meal, joined by the cupcakes as my dinner companions,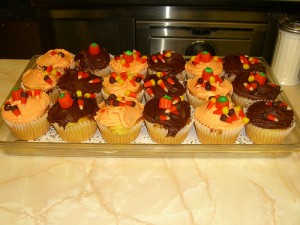 Miss Linda served me up one chocolate and one orange frosted cupcake.  I took them home, put on my jammies, added some frozen yogurt to my treat and curled up in my bed.  Mmmm.  YUMMY!  Moist and delicious.  And I don't mind if they leave crumbs in the bed, if you know what I mean.
Miss Linda makes the cupcakes as she does the cakes – in a variety of flavors and with lots of love.  At the reasonable price of $1.99, it's not such a hard "fat pill" to swallow.
"Frank's Diner" is on 7795 Cedar Avenue, Jessup, Maryland 20794.
Continuing the cupcake prowl looking for the best cupcake ideas,
C2
Share this post
Cupcake Secrets on Video

WATCH Wedding Cupcake Secrets for yourself.

The best learning tool available for any cupcake occasion

Let me show you the same secrets to wedding cupcake decorating - professional pastry chefs pay thousands of dollars to learn.

This in-depth "Wedding Cupcake Secrets Video" reveals step-by-step secrets of how to create cupcake masterpieces for any occasion!