Cupcake Easter Egg Tree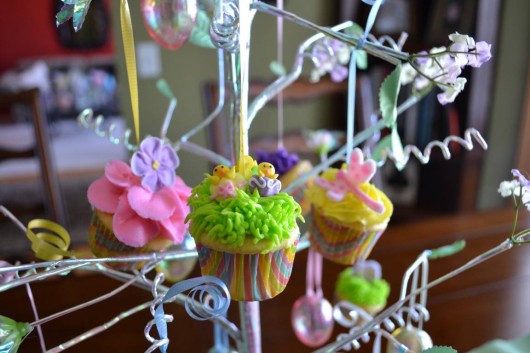 Cupcake Ideas For Easter
Submitted by: Trisha Shamp
Are you like me and look at everything and say….how can I use that object with/for/on my cupcake??
This weekend as I was decorating our house for Easter our little Easter Egg Tree was just screaming….CUPCAKE ME!!
So I did.
I baked a batch of mini cupcakes and pushed a ribbon through the cake and liner and tied a knot underneath to secure as well as put a dab of frosting (royal or buttercream) to secure.
The I just decorated using multiple colors and decorative add-ons and hung from the tree!!
This would be great as a part of a sweets table for Easter Brunch!
Share this post
Cupcake Secrets on Video

WATCH Wedding Cupcake Secrets for yourself.

The best learning tool available for any cupcake occasion

Let me show you the same secrets to wedding cupcake decorating - professional pastry chefs pay thousands of dollars to learn.

This in-depth "Wedding Cupcake Secrets Video" reveals step-by-step secrets of how to create cupcake masterpieces for any occasion!