Chocolate Christmas Cupcakes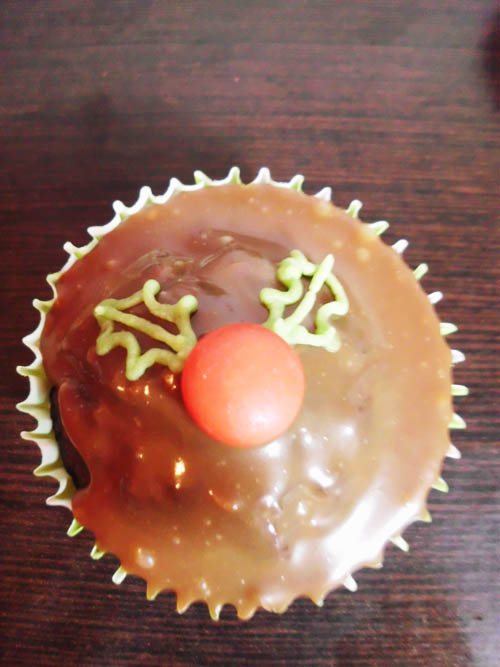 Submitted by: Nicola Quinn
These cupcakes are so easy to make and are bursting with a deep chocolate flavour.
I turned my cupcakes into reindeer and Christmas puddings, but because cupcakes are so versatile when it comes to decorating, you can turn them into anything. Have fun with it!
Personally, I really don't like pretzels at all, but they made the perfect antlers and I'm sure the sharp saltiness of the pretzels works perfectly with the sweet chocolatey-goodness of the cupcakes. I think I'll stick to the Christmas pudding ones though.
This recipe yields around 15 cupcakes and originally came from JoyofBaking.com.
Ingredients
50g cocoa powder
240ml boiling water
175g flour
2 tsp baking powder
Pinch of salt
113g butter
200g sugar
2 eggs
2 tsp vanilla
Recipe
1. Preheat the oven to 190C and line 15 muffin cups with red and green paper lines.
2. In a bowl, add the boiling water to the cocoa powder and stir until smooth. Leave to cool to room temperature.
3. In another bowl, whisk the flour, baking powder and salt together.
4. Whisk the butter and sugar together in another bowl until light and fluffy. Add the eggs – one at a time – and carry on beating. Add the vanilla extract and mix well. Gently fold in the flour mixture, before pouring in the cooled cocoa mix and stir until smooth.
5. Fill each muffin cup about 2/3 full for cupcakes with a 'hill' on top, or about ½ full for a flat top. Bake for around 16-20 minutes until a toothpick inserted in a cupcake comes out clean. Leave to cool completely on a wire rack before decorating.
I turned my cupcakes into reindeer faces and Christmas puddings by covering the tops in chocolate ganache and decorating with sweets and icing pens.
Share this post
Cupcake Secrets on Video

WATCH Wedding Cupcake Secrets for yourself.

The best learning tool available for any cupcake occasion

Let me show you the same secrets to wedding cupcake decorating - professional pastry chefs pay thousands of dollars to learn.

This in-depth "Wedding Cupcake Secrets Video" reveals step-by-step secrets of how to create cupcake masterpieces for any occasion!